Greetings Show Off's!
Today I am reviewing Rice Force Skin Care System. This is a premium Japanese natural skin care that is made out of Japanese rice. RICE FORCE is a Japanese skin care line that uses Rice Power Extract derived from food-grade Japanese rice. Rice Power Extract is high in amino acids and effective in permeating the skin and nourishing it from the inside – skin is thoroughly hydrated which brings a reliable balance and smoothness.
Rice Force was kind enough to send me their trail kit, which retails at $29.80. The trail kit comes with Deep Moisture Lotion (20ml./.68oz.), Deep Moisture Essence (8ml./.27fl.oz.), Deep Moisture Cream (5g/.17fl.oz.), sample packets of Makeup Remover (2), Mild Face Wash (2) and UV Protect Milk (2) packed in a cute cosmetic bag that you will actually use.
Cosmetic Bag the Trail Kit came in

Rice Force Background and Product Description
Before the advent of soap, the Japanese would use wash cloths filled with rice bran (a by-product of rice milling) to wash themselves, or they would soak in rice bran-infused baths. Long ago, they say that visitors to Japan were astonished by the silken beauty of the Japanese people's skin. Rice, so essential to the Japanese diet, also beholds a mysterious power to beautify the skin.
Rice is precious: Every single grain is said to house seven gods. For millennia, the Japanese people have been taught to cook and eat rice, the wellspring of life, with respect bordering on veneration. Today, rice is still the Japanese soul food; and drawing on the wonders of modern bioscience, rice can be a powerful source to nourish beautiful skin.
It is this rice that gives the RICE FORCE skin care the breath of life.
The beautifying power behind RICE FORCE skin care products lies with Rice Power Extract. Rice Power Extract was developed by a sake brewery that boasts a legacy of over 150 years. The perceptive owner of the brewery, who holds a Ph.D. in Agricultural Science, noticed something interesting about the tōji, the craftsmen who make sake. The tōji were in daily contact with malted rice, the main ingredient of sake, and all of them had beautiful hands regardless of old age.
Entrusting there were more uncovered benefits in a grain of rice, the brewery owner embarked on a research program with the support from the Japanese Government and medical institutions to discover a brand new category of skin care products.
After using the makeup remover and mild face wash, is where you then use a combination of the rice force moisturizers.
Make Up Remover and Mild Face Wash Trail Size
Rice Force Moisturizers

Per Rice Force, "You will see a significant improvement in your complexion with this daily 3-Step Skin Care Regimen. Customize your own product lineup for your skin care needs."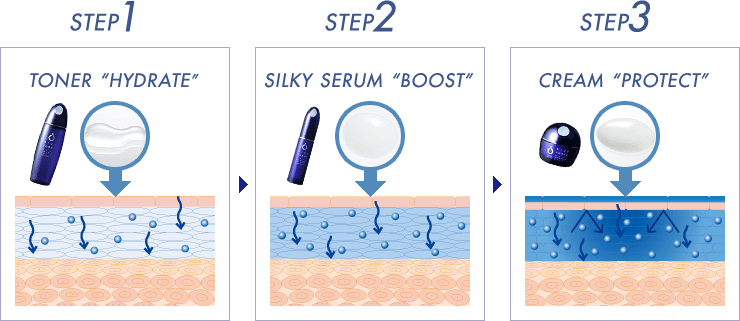 Step 1: The Deep Moisture Lotion ($80) - I guess it does act as a toner because I was surprised that it is made in a liquid form but is labeled as a lotion. I was really confused at first. After I applied this lotion (toner), my face did feel moisturized after using the mild face wash.
Step 2: The Deep Moisture Essence ($100) - Rice Force refers to this as a Silky Serum.
This was more like a really rich lotion for your face. When applied it felt like even more moisture applied to the face. My face felt really soft and dewy after applying this.
Step 3: Deep Moisture Cream ($80) - Rice Force describes this moisturizing step as a protecting agent that seals the moisture that you have previously added into the face.
Overall Impression & Rating
Overall, I really enjoyed the experience of Rice Force skin care. I genuinely felt like I just received a facial after using this system. This Rice Force system has been noted to act as a very natural preventative skin care system for your face. I totally agree with this and would love to purchase the full size kit. I think it would be worth the cost based on the history of the Japanese Rice theory and its anti aging aspects. I give this skin care system with a rating of a 9 out of 10 because the price is little steep. The entire full size kit costs $370.00, however, if you only purchase the moisturizers together those are $270.00.
However, you can purchase your own trail kit through the link below for $19.80. This trail kit is regularly $29.80, therefore, you can purchase this for $10.00 off.
Please let me know if you have any questions or concerns.
And I would also love if you would Like me on Facebook at
Beauty Show Off
:) My other social media buttons are located on the side panel of this page.
Thanks for Reading!!!
and don't forget to.......